Description
CTAB- and Citrate-Capped Ag Nanospheres
NanoSeedz™ provides Ag nanospheres that are capped with CTAB or citrate. The average diameters of the CTAB- and citrate-capped Ag nanospheres are 24 nm and 25 nm, respectively.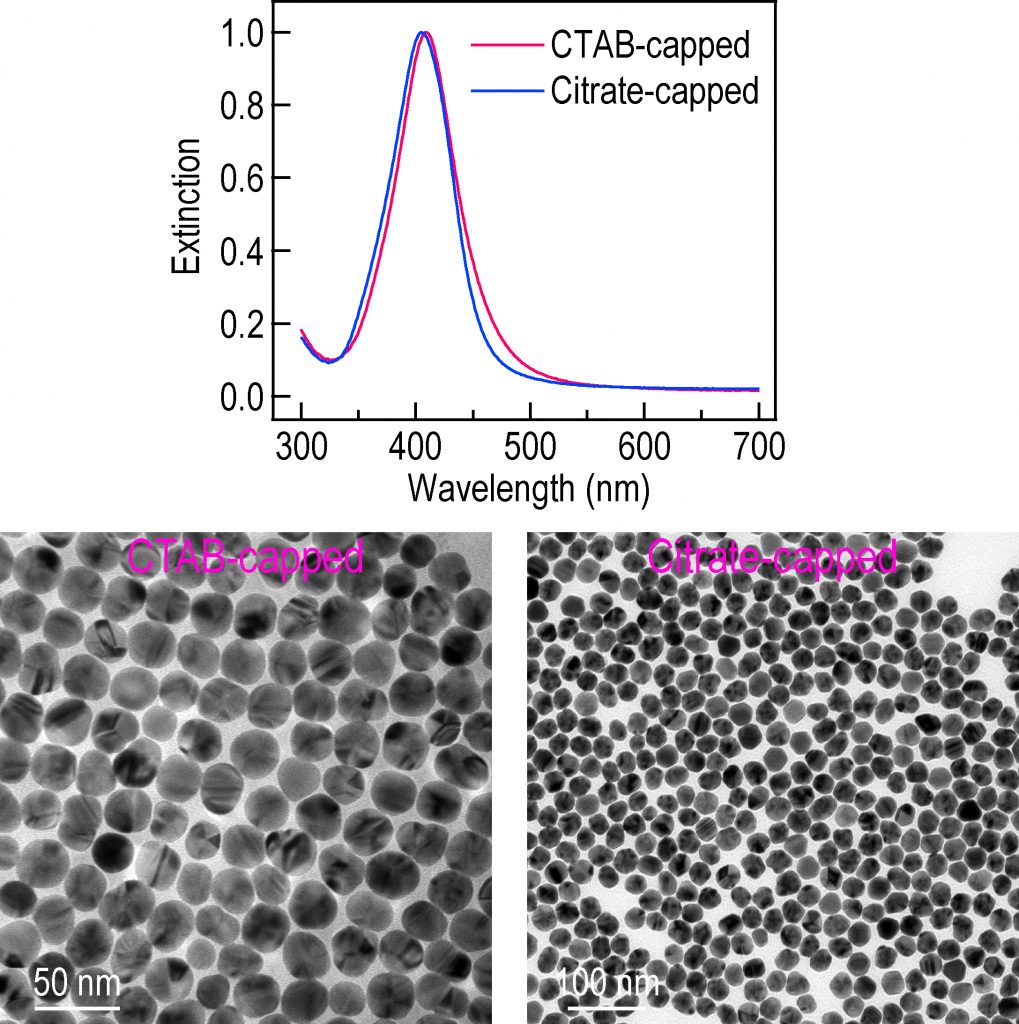 ---
Ag Nanospheres
Nanoseedz™ provides both CTAB- and citrate-capped Ag nanospheres.
Part #
Diameter* (nm)
Volume (mL)
Mass concentration (mg/mL)
Price (USD)
AG-CTAB-NS-10
24±2
10
0.01
38
AG-CTAB-NS-25
24±2
 25
 0.01
 88
 AG-CITRATE-NS-20
 25±2
 10
 0.02
 58
 AG-CITRATE-NS-50
 25±2
 25
 0.02
 108
*Diameter: average diameter of the silver nanospheres.
References
N. G. Bastús, F. Merkoçi,̧ J. Piella, V. Puntes. Synthesis of highly monodisperse citrate-stabilized silver nanoparticles of up to 200 nm: kinetic control and catalytic properties. Chem. Mater. 2014, 26, 2836-2846.
S. Yun, S. Hong, J. A. I. Acapulco, Jr., H. Y. Jang, S. Ham, K. Lee, S. K. Kim, S. Park. Close-packed two-dimensional silver nanoparticle arrays: quadrupolar and dipolar surface plasmon resonance coupling. Chem. Eur. J. 2015, 21, 6165-6172.
N. G. Bastús, J. Piella, V. Puntes. Quantifying the sensitivity of multipolar (dipolar, quadrupolar, and octapolar) surface plasmon resonances in silver nanoparticles: the effect of size, composition, and surface coating. Langmuir 2016, 32, 290-300.